Biography
Richard Davis has a BA in sculpture from Bard College, Annadale-on-Hudson, New York. He practiced the art of fine cuisine in the restaurant business for many years. In 1998, he volunteered to help install mosaics on the front of the Craft Center Building in Nelson, New Zealand and has been making mosaics ever since. Upon returning to the USA, he joined the Society of American Mosaic Artists (SAMA) and now makes mosaics in Clinton, WA. He is a frequent contributor to SAMA's publication "Groutline". Old articles have covered mosaics in Central Asia, Egypt, St. Louis, and more recent articles include mosaics in Gujarat(India), Vietnam, Belgium, Vienna (Austria), and Greece. He has also written an article for the British Association for Modern Mosaic about a visit to Tunisia. He continues his mosaic education by attending SAMA's annual conferences. In 2005, he participated in a technical tile workshop offered to professional tile installers by Schluter Systems. He is the co-author of SAMA's 2013 guide to public mosaics in Tacoma and Seattle, WA. He contributes mosaic videos & photos he finds online to the blog "Mosaic Art Now" and also posts smaller international mosaic news items on Facebook.
From 2016 to 2018, Richard has been a participating artist in the international show called "Mosaic as Contemporary Art" curated by the Viennese artist, Edda Mally. In this show, his pebble mosaic has been displayed in Europe at : Cloistre De la Basilique de Paray Le Monial, Paray Le Monial, France 6/02/2018-8/02/2018. National Gallery, Skopje, Macedonia 11/03/17-11/17/2017,The Gallery Of National Bank of Serbia, Belgrade, Serbia 10/12/2017-10/27/2017, Teloglion Foundation of Art in Thessaloniki 2/17/2017-4/23/2017, Melina Merkouri Cultural Center in Athens 2/2/2017-12/2/2017, and De Chirico Art Center, Volos 4/11/2016-5/6/2016
2017,iIn the Northwest of the USA, Chiaroscuro Group Show (Northwest Mosaic Alliance), Lincoln City Cultural Center's Chessman Gallery, Lincoln City,OR 12/01/,2017-12/31/2017.
In 2018 The Chiaroscuro group show continued at Wallow Gallery, Carlton 3/3/2018- 5/29/2018, The Gallery at 10 Oaks, McMinnville 7/31/2018-9/30/2018. Plus Richard at 2 pieces juried into group shows in France and one in USA. Juried show, "La Lumiere", 12 Rencontres Internationales De Mosaique, Chartres, France 10/20/2018-11/11/2018 Juried show " Au Gres des Tesselles", Musee Paul Charnoz, Paray le Monial, France 7/07/2018- 10/21/2018. This piece is now part of the museum's permanent collection. 2018, Richard had a piece accepted into Mosaic Arts International at the Society of Arts & Crafts in Boston, MA. 2/15/2018-3/18/2018
2019, Richard had a piece accepted into Mosaic Arts International at the Parthenon museum in Nashville, TN, 1/26/2019-5/19/2019 and in the show "Mosaiques en Nord", Hazebrouck, France, 11/9/2019-1/12/2020
2020 Richard was accepted into the 13th Recontres Internationales de Mosaique, Chartres, France 10/17-2020-11/8/2020 and he participates in the group show "Tradition,Transgression,Transformation, Contemporary Mosaic Art from the Pacific Northwest" (of Northwest Mosaic Alliance) at Northwinds gallery, Port Townsend ,WA 10/1/2010- 11/1/2020
Richard is influenced by the numerous mosaic styles he has seen in his travels. Many of his pieces incorporate found or recycled objects and tiles, often carted back in suitcases from far away lands! It is from this large and costly inventory of colors and textures that he draws inspiration for his mosaics. He works in both figurative and abstract styles. Visit my studio on Whidbey Island, WA. by appointment only: call 360-579-1080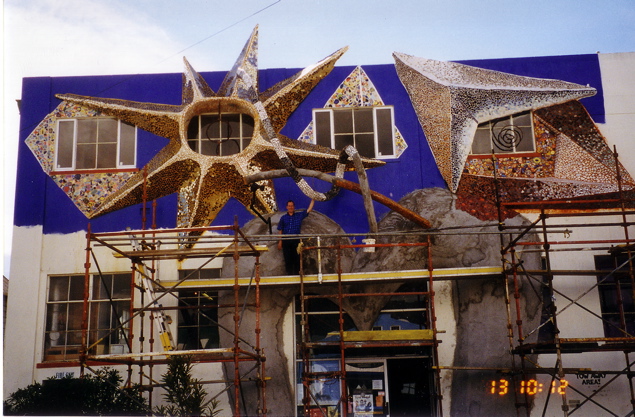 Richard on the scene of the architectural mosaic he worked on in Nelson, New Zealand in 1999. Images copyright 1999-2020